Hiya again, this is "Ruff®" talking. Since "K9®" handles the administration, we had to have somebody take care of filling orders and shipping His name is "Tony Holedigger®." Everybody gets along real well with him and they smile and call him "Tony®." Now if I could only get him to remember where he buried my favorite bone - his last name isn't Holedigger for nothing - let's ask him.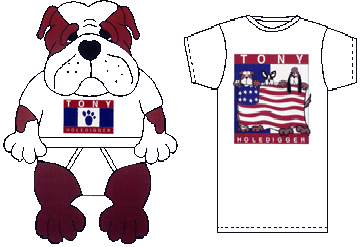 Finally! Even if I could remember where I put Ruff®'s bone - I wouldn't tell him! Mostly because I nosh on it when I'm shipping us Parodias Caninas® to you all over the world.

I'm a big believer in the Stars and Stripes. Unlike the other two guys dat I work with, I parade Red, White, and Blue on my chest and on my T-shirt. I thought about wearing the colors a couple of other places, but K9® and Ruff® told me it was enough already.

If you feel like wearing my colors - - - you know, Red, White, and Blue - - - I need to know where your house is (Ya got my word, nobody will get your information from me or any of my friends, including the humans!).

Even if you don't want me first, ya can always get K9® or Ruff®. Of course, the three of us really like being together!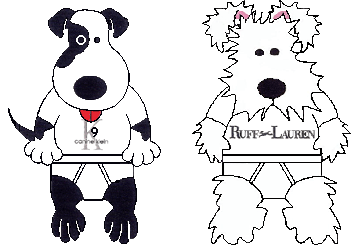 "Canine (K9) Klein®" and
"Ruff Lauren ®" are standing
by so you won't forget to order them, too!
Each "Ruff®", "K9®", and "Tony®" is an inch over one foot tall. They are made of the finest plush in the world. Each cuddly puppy has his name printed on the front of his undershirt and is stuffed with his own custom printed X-Large Adult-sized T-shirt. The shirt is made of premium 100% cotton which makes it the epitomy of comfort for sleep or everyday wear.
"Ruff®", "K9®", & "Tony®" can be yours for:
$29.95
All prices and payments are in United States Dollars (USD) plus all shipping, handling, and applicable taxes. Customer satisfaction 100% guaranteed from manufacturing defects.